04/07/05

Supporters credit Hahn with improving public safety and the quality of life in the Valley

>>Read More
Show all items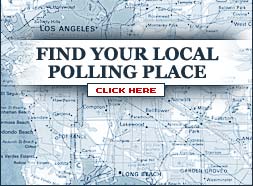 TUESDAY, MAY 17  7am - 8pm


Where Do I Vote?


Who Can Vote?


Los Angeles City Clerk's Web Page
Gutsy Decisions, Results to Back It Up
Un Hombre De Su Palabra
Jim Hahn has a record of making gutsy decisions that have made Los Angeles better. In the face of criticism, he hired Police Chief Bratton. The result? Violent crime has dropped 18%, and gang crime has fallen even more. When L.A. almost split into two, Mayor Hahn understood that sticking together benefits us all. He took a chance and we all won. These tough fights are only part of the record of success behind Jim Hahn's first four years as Mayor. He has expanded after-school programs, defeated a plan to construct a coal-powered energy plant, and restored community policing. Jim Hahn is a Mayor we should keep for another four years.